The following article was displayed on the website of our partner, Sonoran Joint Venture, who supports birding programs for ITE youth.
Birding as a Tool for Youth Environmental Stewardship
FRIDAY, 06 MARCH 2020 /  PUBLISHED IN NEWS
We are Ironwood Tree Experience, a nonprofit that connects youth with their communities through experiences in nature. We aim to inspire and teach young people lessons in environmental stewardship. These experiences spark a lifelong journey of being proactive in making the world a better place. This begins by showing youth that the natural world is worthy of protection. One way we do this is through observing birds in the urban environment.
Birding in the urban environment makes nature feel more accessible to a young person and makes their connection to nature more frequent. When youth are able to use birding skills to observe a bird's flight patterns, inspect its colors and markings, and maybe even identify its song, they are also able to recognize that nature makes their community a special and valuable place. This awareness then extends outwards to create an empathetic relationship with other parts of the natural world and becomes a tool that youth use for stewarding the environment and sharing this passion with others.
Nineteen-year-old Isolde Edminster-Genet has been part of various programs with Ironwood Tree Experience over the past 3 years. Isolde admitted that she didn't initially find birding very exciting, as it seemed more challenging than rewarding. However, after spending more time doing it, she now appreciates being able to add to the list of Sonoran Desert animals that she's able to identify, and recognizes the important role that birds play in the wider ecosystem.
"We don't really think twice about the birds we see flying around and sitting on our telephone wires, but they really provide a lot for the environment. They remind us … that we exist in the natural world and that the natural world exists within our urban environment," Isolde said. She also expressed that "a big part of environmental stewardship is being familiar with your surroundings. Knowing about birds makes you appreciate where you exist and incentivizes you to want to take care of such a special thing."
Twenty-one-year-old Ajang Deng has participated in Ironwood Tree Experience programs as a youth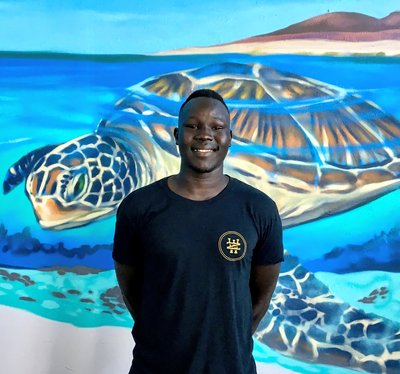 participant, and he has even rejoined as an alumnus in our recent Bird-a-thon. Ajang expressed that birding with Ironwood Tree Experience sparked his interest in learning more about birds and being able to identify them. One of his favorite memories of birding was at the Kino Environmental Restoration Project, where he was able to see water, green trees, and countless birds in the urban environment. Ajang said that he uses the knowledge he's gained through birding to educate others, such as his family and friends. He said that learning more about birds with Ironwood Tree Experience "made me become a birder myself and become more aware of my environment. Now when I'm walking, I make sure my head is up, and I notice the birds a lot more… Birding is important for the environment; it attracts more people to a certain area. It connects you to other things and how you can expand your learning of the environment."
Birding in the urban environment makes nature accessible to youth in a way that allows them to appreciate the uniqueness of their community. It can also empower young people to advocate for nature and inspire others to do the same. Ironwood Tree Experience youth and programs show that the urban environment offers a unique place to learn about the natural world.
During 2019, Ironwood Tree Experience hosted a Bird-a-thon throughout November involving 10 youth birders. The team spotted 49 unique bird species in five Tucson locations (the Santa Cruz River, The Urban Green Lot, Sweetwater Wetlands, Arroyo Chico Greenway, & Kino Environmental Restoration Project). In collaboration with the RSK Memorial Fund, the Bird-a-thon raised $2,775 in youth scholarship funds.
Ironwood Tree Experience bird programs are supported through the year by a USFWS grant and with the hands-on expertise of the Sonoran Joint Venture team. Check out this video of the Bird-a-thon participants in action!
By Chrissy Maes, Engagement & Event Coordinator, Ironwood Tree Experience